Ep #13: 5 Questions to Supercharge Your Career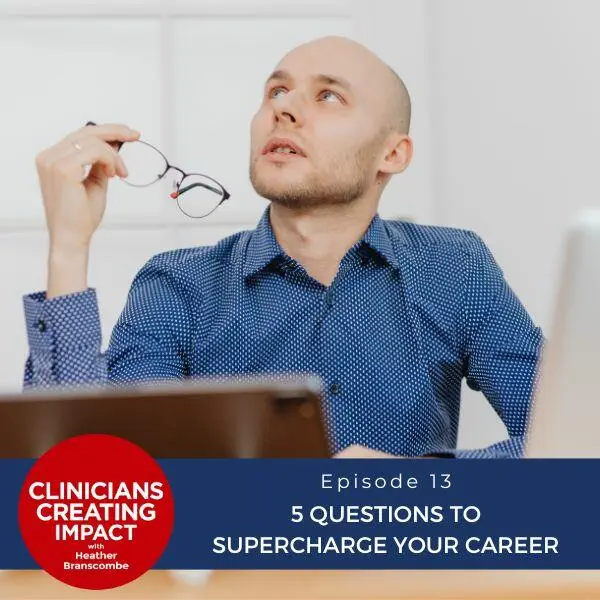 A common problem for clinicians is most of us don't have an actual plan for what we want our clinical career to look like. If we do have a plan, it's normally what the next steps are, but not looking at what we can accomplish over the span of our careers. In this episode, I'm giving you five questions to ask yourself that will supercharge your career in the direction you want to go.
Over my 25-year career, I've noticed that the days are long and the years are definitely short. We get caught up in our day-to-day activities all too easily. Instead, I'm inviting you to zoom out and think about the direction your career is going, and decide whether or not you actually want to go in that direction. 
Whatever stage of your clinical career you're in, I'm giving you five questions you can use to think consciously and deliberately about what your career could look like. I'm showing you how to gain awareness of what you really want from your career, and decide how to get there.
If you love what I'm sharing in this podcast and you want more, you can download my free Getting it All Done at Work process.
What You'll Learn:
Why it's never too early or late in your career to consciously and deliberately plan what your career could look like.

5 questions that will supercharge your career in the direction you really want to take it.

My own experience of answering these questions, and why your answers are allowed to change over time.

How to use the answer to these questions to decide on your next steps.
Resources:
---
Full Episode Transcript:
Episode 13, Five Questions to Supercharge Your Career.
Welcome to Clinicians Creating Impact, a show for physical therapists, occupational therapists, and speech-language pathologists looking to take the next step in their careers and make a real difference in the lives of their clients. If you're looking to improve the lives of neurodiverse children and families with neurological-based challenges, grow your own business, or simply show up to help clients, this is the show for you. 
I'm Heather Branscombe, Therapist, Certified Coach, Clinical Director, and Owner of Abilities Neurological Rehabilitation. I have over 25 years of experience in both the public and private sectors, and I'm here to help you become the therapist you want to be, supporting people to work towards their dreams and live their best lives. You ready to dive in? Let's go.
Hello, friend. As I'm recording this podcast we, at our home, are in the final stages of the home renovation. So we're at the final stages, spring feels like it's finally here and, to me, all feels amazing in the world. 
I'm getting super excited to go on a trip with my husband in the first few weeks of May to celebrate our 25th wedding anniversary that happened at the end of last year. And in anticipation I'm recording some extra podcasts. So while I may not be active on social media for those first couple of weeks of May, you'll still get this podcast content while I'm away. 
Today's podcast is inspired by one of my favorite podcasts, which is from a woman whose name is Brooke Castillo. Brooke happens to be the owner and founder of The Life Coach School, and this is the school where I did my coach certification. 
During my coach certification I found that it was one of the most pivotal and transformational experiences that I've had, basically since I've graduated physiotherapy school, with the single exception maybe being completing my MBA. If you aren't following her podcast, I would highly recommend it. And the podcast episode that I'm referencing today was really about questions about what you would do if you had a year left to live. I really love this podcast. 
This podcast episode is going to be a little less dramatic than if you have one year to live or less. But when I listened to that podcast, what I thought about is how we think and plan our clinical careers. So many of us don't actually have an actual plan of what our clinical career might look like. And if we do have a plan, it's really normally about what the next step is going to be and not necessarily what we're looking to accomplish over the span of our career. 
One thing I've noticed in my now 25 year career, as well as life in general, is that the days are long and the years are definitely short. What that means to me is it is so easy for us to get caught up in our day to day activities, especially at work. And it's not always easy to zoom out. But it is important to zoom out every once in a while and to think about the direction you're going with your career and to ultimately decide if that's the direction that you actually want to go. 
I know for myself, my career has definitely not been what I thought it would be 25 years ago when I graduated from physiotherapy school. To be honest, I don't even know if I really thought about what my life would look like 25 years from then. But if I did, it definitely wouldn't have been what I'm actually doing right now. I think I would blow my new grad therapist mind if she knew what I was doing now. 
Now, 25 years may seem like a really long time to you, and it may sound like I might actually be winding down my career. But the truth of the matter is I feel like I have so many great years of my career left. And part of the reason I believe that and part of the reason that I'm not counting my days down to retirement is because of how much joy and fulfillment I'm actually getting from my career right now. 
I just want to offer that no matter whether you're very early in your career right now or if you might think that you might be in the last days of your career, it's never too late to consciously and deliberately plan what your clinical career is going to look like. 
So today I want to offer you five questions that you can use to think about your clinical career more consciously and more deliberately to help you gain awareness of what you'd like to do next. So let's go through the questions. 
Here are the five questions I have for you to supercharge your career. Question number one, if you knew that you would be successful, what would be different about your career? Question number two, if you knew that you would be successful, what would you start doing in your clinical career? 
Question number three, if you knew that you would be successful, what would you no longer care about in your clinical career? Question number four, if you knew that you would be successful, what would you care more about in your clinical career? And question number five, why do your thoughts change when success is guaranteed? 
Now, the great thing about having these questions in a podcast, even if you're listening to this now for the first time and you're doing something that requires your attention, such as driving or exercising, or something doesn't allow you to take the time to stop and minimally think about it, or even to sit down. Coming back to this after sitting down, maybe even journaling about it is an amazing opportunity for you to go back, relisten to these questions, and to answer them at a time that's more convenient to do. 
I'd really offer you the opportunity to stop, or minimally to slow down, and to think about what your answers are to these questions. So just like Brooke asked in a podcast in terms of a similar set of questions of if you had one year to live, I think it's really interesting to look at these questions in terms of our own clinical career. It's a fascinating way to just see what your thoughts are that your brain offers when you ask those specific questions. 
Once you're finished answering those questions, notice what kind of themes come up or what kind of themes don't come up for you. And those themes can be a suggestion of what could possibly be the next step for you in your own clinical career. I know that when I answer these questions for myself today, knowing that this answer could be different tomorrow, not to mention next week or even next year. 
But just for today, what I notice is that if I knew that I could be successful, I would actually be doing exactly what I'm doing right now, which is relentlessly trying to pursue to create a place where I can create an outstanding client experience and an outstanding staff experience for clinicians, knowing that those two experiences are not mutually exclusive. Basically, what I'm saying is I would continue to relentlessly pursue the excellence and the growth that we're looking to pursue within Abilities.
I know in my heart of hearts that creating an outstanding staff experience will allow happy and empowered staff to create a bigger impact in the lives of their clients that they serve. I would care more about relentlessly pursuing this mission. I would care a whole lot less about what other people think of me, especially those people who don't actually know me nor my intentions. 
Now, don't get me wrong, of course I care, ultimately, about what people think of me. Ultimately, I think that's a healthy thing, to a certain extent, to care about what people think of you. And I don't want to work from a place of doing things that will please only me or that will only please other people. 
Ultimately, I want to work from a place where I am satisfying my needs, desires and wants, professionally and personally, to ultimately create the career that I want. As well as to benefit the needs of both the people that I work with and collectively the people and the families that we serve. 
So give these questions a try for yourself and see what comes up for you. Minimally, I'd like to offer you that you're going to get an incredible amount of awareness of your own brain. You're also going to get an amazing amount of awareness about your thoughts and where your clinical career could possibly go next. 
The alternative is just to do what you're always doing, which is to potentially not think about what's happening, with the potential that as you get lost in the day to day minutiae of life and work, ultimately, you're not going to end up creating the impact that you could, both for yourself and for the clients that you serve. So give it a try and let me know how it goes. I can't wait to see the impact that you create with this. See you soon.
If you enjoyed today's show and don't want to worry about missing an episode, you can follow the show wherever you listen to your podcasts. And if you haven't already, I would really appreciate it if you could leave a rating and review to let me know what you think and to help others find Clinicians Creating Impact. 
It doesn't have to be a five star rating, although I sure hope you love the show. I'd really want your honest feedback so I can create an awesome podcast that provides tons of value. To learn more about me and the work that I do, visit my website at www.abilitiesrehabilitation.com/clinicianscorner to download your free getting it all done at work process and to see what I'm up to. Thanks so much.
Thanks for joining me this week on the Clinicians Creating Impact podcast. Want to learn more about the work I'm doing with Abilities Rehabilitation? Head on over to abilitiesrehabilitation.com. See you next week.
" >
---