Introducing the Clinicians Creating Impact Podcast!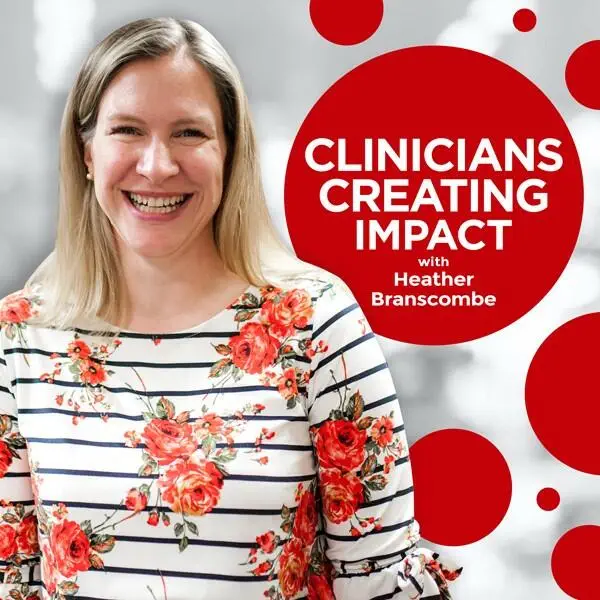 Welcome to Clinicians Creating Impact!
If you're a physiotherapist, speech-language pathologist, or occupational therapist, this show will equip you with the coaching and mindset tips you need to help you create your dream job and start making a real difference for the people you want to serve.
After over 25 years of experience in the public and private sectors, I'm here to show you that a successful, fulfilling career serving the clients you want to serve is available to you as well as what you need to do to get out there and make it happen.
Each week I'll share best practices, real-world examples, and coaching to help you take the next step in your career path and create the impact you want to make.
I'll cover topics like how to have hard conversations, how to work less and make more money and more impact, how to grow without burning out, and so much more.
If you're ready to use the latest in brain-based coaching and take the next step toward a successful career in therapy, be sure to follow the show wherever you get your podcasts.
I'll be releasing a new episode every Thursday!
---
To celebrate the launch of this show, I'm giving away a $100 and two $50 Amazon gift cards to 3 lucky listeners who follow, rate, and review the show. 
Keep reading to find out more about the contest. Enter by midnight ET on March 2, 2023!
I'll be announcing the winners on episode 10!
---
Click the links below to listen to the first episodes:
Ep 1: How to Create a Bigger Impact as a Therapist: Discover why you ultimately have the power to create the career you've always wanted and an exercise you can start today to make more empowered decisions in your life.
Ep 2: The Model and Why it Matters as a Therapist: Learn an awareness tool that can help you understand how your brain is working in any given situation and that also has the power to change everything you do as a therapist.
Ep 3: Why Create a Bigger Impact?: Find out how to set goals from abundance and believing you're already enough and why this will help you have more fun setting goals while having a bigger impact in your work as a clinician.
ENTER THE PODCAST GIVEAWAY (MOBILE INSTRUCTIONS)
To be officially entered, fill out the form below and follow the instructional video that will appear!
To enter the giveaway, fill out the form above or click here, scroll down, and fill in your name and email. Then click 'Enter to Win Now!'
Click the purple button that says 'Follow, Rate & Review the Podcast.' This should bring up a pop-up with another purple button; click that purple button as well. This will take you to the Clinicians Creating Impact podcast page in Apple Podcasts
Tap the '+' on the top right corner to follow the podcast
Scroll down the page to the 'Ratings & Reviews' section. Tap the stars to leave a rating.
Scroll down and tap 'Write a Review' to write your honest review. NOTE: Be sure to remember the title of your review; you'll need it for the next step.
Navigate back to the podcast giveaway page that says, "Wait! You're not done yet…" and enter the title of your review under '2 What's the title of your review?'
Tap 'Confirm,' and you're in!
Share the giveaway on your favorite social platforms to earn more points, the 3 people with the most points win!
ANY REVIEW QUALIFIES YOU TO WIN
I want you to be honest, tell me what you think, and how I can make the podcast even more helpful… And make sure you hit "Send!"
Remember: To be officially entered, you'll need to fill out the form above or click here and follow the instructions in the video that will follow.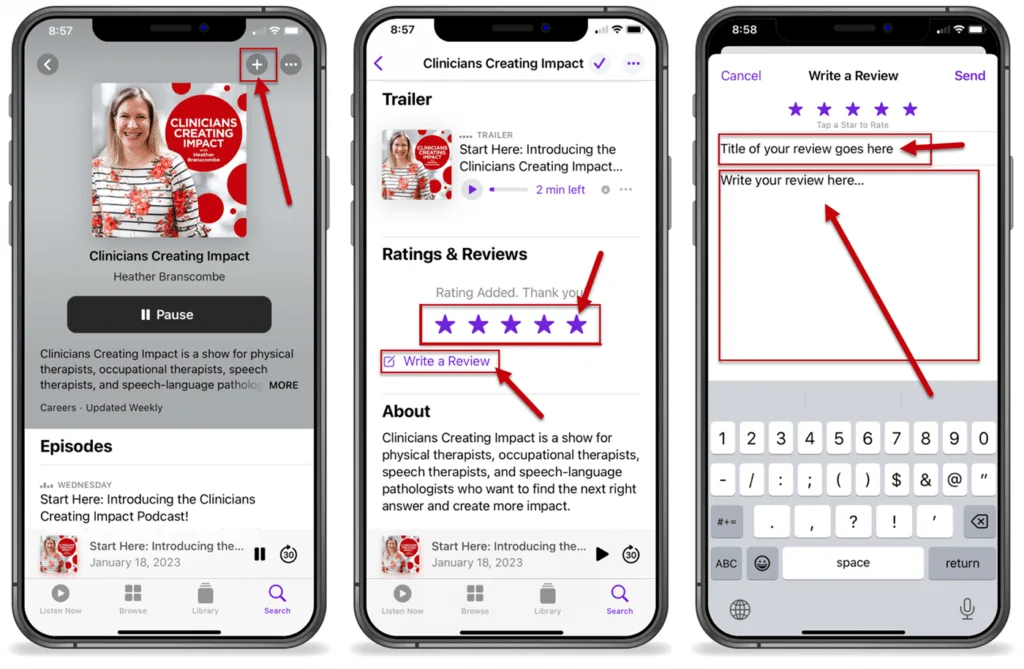 ---
Full Episode Transcript:
---